I've had turnsilver in my list of verb-noun compounds since mid-June, but I've never taken a close look at it until now, as I finalize my list. The OED has a very short entry about it.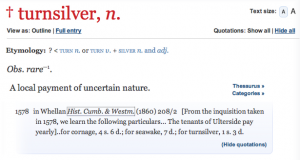 The OED definition says it may be a type of 'local payment', but the quotation seems to suggest that it is a service rendered for which the citizens must pay some amount. I note that turnsilver is worth less than cornage and seawake.
Cornage: 4 s, 6 d
Seawake: 7 d
Turnsilver:  1 s, 3 d
Seawake is the duty of watching the sea, presumably for enemies.
The meaning of cornage is not clear. A 1574 quote by Littleton says it is the blowing of horns to warn people about approaching enemies. (corn -> horn is not a big leap, see cornucopia, capricorn, unicorn).  An early warning system would merit a payment.  The turnsilver quote is chronologically nearby in 1578, so that meaning seems to fit along with the proper time period.
So. If cornage and seawake are both enemy warning systems, why would turnsilver be a form of payment? Why would people have to pay for payment?
Is turnsilver an endocentric or exocentric compound? Is it a kind of silver which is turned in some way? Is silver a metaphor for money in general? A precious metal that turns into something else? Alchemy? Do they turn silver into sellable goods? Do they bribe enemies not to attack them? Is it a banking service or store? Maybe they turn silver (money) into items that the citizens need.
I don't know, and the OED doesn't know. All I need for my dissertation is a brief definition, but I can't even be sure what kind of compound this is. It may have to be removed from my glorious list of 456 exocentric V+Ns.
Any thoughts? I'm confused.
Look: a silver metal medal.
August 6, 2012