Well folks, it's been a wild ride.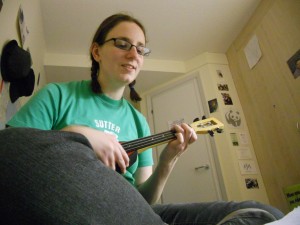 This project was directly motivated by Ms. Shelley and the PDX Fun-a-Day project. On the record, the York Uke 30 project took a little longer than 30 days due to unforeseen schoolwork and illness. To view the full playlist, go to the York Uke 30 on Youtube.
I think I've been the most shocked at the videos with the most views: Public Property, I Am A Wizard, and Decomposing Composers. I'm not sure if I filled a certain ukulele youtube void, or if it was just the luck of the digital draw.
From the player's perspective, my favorite songs are the ones in which I sing the instrumental breaks:
24: Friend is a Four Letter Word by Cake
21: Something by the Beatles
17: Sad Songs and Waltzes by Cake
13. Where Is My Mind? by the Pixies
8: Then I Met You by The Proclaimers
6: Mother of Pearl by Nellie McKay
4. I'll Follow the Sun by the Beatles
{ 0 comments }
March 19, 2012